Flag of Mozambique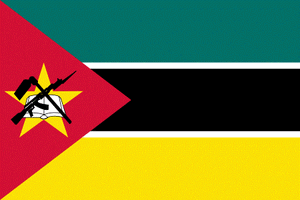 General
List of flags
Simplified list of national flags 
Mozambique, officially the Republic of Mozambique (Portuguese: Moçambique or República de Moçambique, pronounced: [ʁɛˈpublikɐ di musɐ̃ˈbiki]), is a country in southeastern Africa bordered by the Indian Ocean to the east, Tanzania to the north, Malawi and Zambia to the northwest, Zimbabwe to the west andSwaziland and South Africa to the southwest. The capital city is Maputo, formerly known as Lourenço Marques.
Between the 1st and 5th centuries AD, Bantu-speaking peoples migrated from farther north and west. Swahili, and later also Arab, commercial ports existed along the coasts until the arrival of Europeans. The area was explored by Vasco da Gama in 1498 and colonized by Portugal in 1505. Mozambique became independent in 1975, and became the People's Republic of Mozambique shortly thereafter. It was the scene of an intense civil war lasting from 1977 to 1992.
Community content is available under
CC-BY-SA
unless otherwise noted.